With increasing environmental concerns, people are looking for ways to reduce their carbon footprint and especially their plastic waste. Sustainable packaging offers a practical solution to these concerns. Sustainable packaging is the material and processes used in packaging and shipping goods that are designed to maximize positive environmental impacts over time.
Every day, we produce large amounts of single-use plastic products, from plastic straws to plastic bags, that ultimately end up as waste. One of the main contributors to this is packaging. More businesses are selling online and more consumers are choosing to shop online rather than in a physical store. This also increases the demand for packaging products. Millions of plastic mailers are used every year and millions of boxes contain single-use plastic protective packaging that often times ends up as waste. A single product can result in a large amount of plastic waste when delivered to consumers' doors. But the boom in e-commerce doesn't have to equal a negative impact on the environment. Sustainable packaging allows for businesses and consumers to purchase and package goods without harming our planet while boosting business at the same time!
If sustainable packaging options are used, businesses can reach a larger market. A growing number of consumers are environmentally conscious. So, by switching to sustainable packaging for your business, you can gain customers, grow sales and increase production. Customers are attracted to businesses who care about the environment and our planet's future. Consumers feel no guilt about engaging in e-commerce when they know they can easily recycle the packaging their goods come in.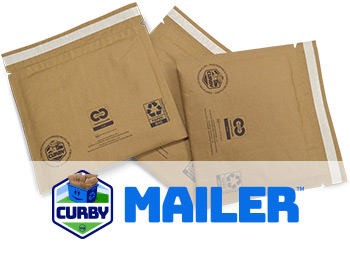 Paper Mailers
An option for sustainable packaging is the curbside recyclable Curby Mailer™ from IPG. This paper mailer is made of recyclable paper and is Cradle to Cradle Certified Silver®, so consumers feel confident placing it in their curbside bin along with their other recyclable items. And, you don't have to sacrifice the safety of the goods in the package. The Curby Mailer has better protection than other non-recyclable mailers with a honeycomb structure inside, proving it is possible to be both eco-friendly and highly effective!
Paper Void Fill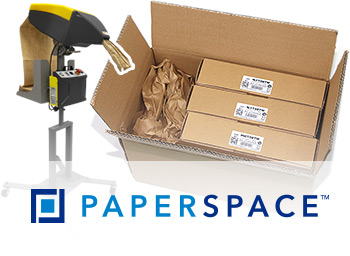 Packaging also includes the void fill that goes inside the box to protect the contents. Bubble, foam or plastic air pillows are often used, but IPG offers an innovative and sustainable paper packaging alternative with PaperSpace X-Fill™. It's efficient and user-friendly with paper made from recycled content. It fills any void needed in packaging to protect the contents and is fully recyclable.
Sustainable packaging options are out there, and IPG's resourceful products make it easy to choose sustainable packaging.
Be sure to check out the sustainable packaging products that IPG offers. Boost your business and feel great knowing that your product will be safely delivered without harming the environment.