Plastic and Shipping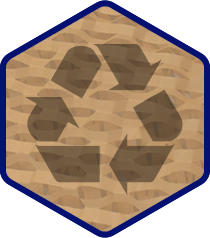 Traditionally, using a high amount of plastic during the shipping process is a necessity to keep products safe during transit. While we want to ensure that products will be delivered safely without damage, it is increasingly important to try and lower the use of harmful plastic wrapping and void fill. We want to minimize as much packaging waste as possible. Curby Fragile Wrap offers a renewable paper solution that provides both protection and sustainability.
Curby Fragile Wrap is made from recyclable paper and is curbside recyclable, meaning it can easily be recycled in your curbside bin along with your other recyclable materials. Other fragile wraps are often not as easily recyclable, if at all. Our fragile wrap is also Cradle to Cradle Certified® Silver. With the high demand for shipping goods, it is a major benefit to people and the planet for the process and the goods involved to be Cradle to Cradle Certified®. This recyclable fragile wrap was created with sustainability in mind.
Recyclability and Efficiency
Besides its recyclability, efficiency is one of the key benefits of Curby Fragile Wrap. Your business will experience both operational and pack efficiency. Curby Fragile Wrap allows you to secure multiple products in one box. It can accommodate the fragile products you need to keep safe, such as glassware, ceramics, cosmetics, and electronics. By allowing you to secure many items together, Curby Fragile Wrap eliminates redundant packaging materials and plastic waste. You will also be able to save space in your warehouses and pack stations. With a small foot print, you can use it at your pack stations the way that best fits your business's packaging process. Perfect for fulfillment operations, Curby Fragile Wrap is a much faster method of wrapping an item than traditional packaging methods, eliminating the need for automation. Our easy-to-use fragile wrap is a proven environmentally-friendly solution to plastic packaging.
Curby Fragile Wrap keeps your fragile products safe by using honeycomb cushioning. This innovative paper cushioning protection relies on the efficiency and strength of nature's hexagon shape. During shipping, our fragile wrap prevents jostling and shifting of products as the honeycomb shapes interlock. So, you can have peace of mind knowing your package will be kept safe and secure during transport. It also ensures that you will not be shipping air or wasting space, improving efficiency, cost-effectiveness, and sustainability.
It is so easy to pack with Curby Fragile Wrap and easy for your customers to recycle it! Our fragile wrap comes in white or kraft paper brown for the wrapping and packaging of your fragile products.