As consumers become more environmentally conscious, the demand for sustainable packaging options continues to rise. Companies are developing innovative solutions that support more sustainable packaging, such as using more recycled and recyclable materials and designing products that require less while protecting more. They are also solving increasingly difficult packaging challenges like finding alternatives for materials that aren't accepted in curbside recycling programs.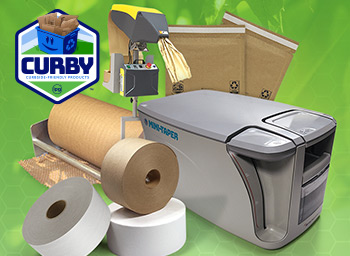 IPG is committed to using materials that can be recycled after use. That's why we created a line of 100% curbside recyclable packaging products like the Curby Mailer™ and the entire Curby® line, which allows consumers to recycle the packaging along with other recyclable items without compromising on the safety of the product inside.
Going Beyond Products: Putting Sustainability into Practice
As consumers become more aware of the impact their purchasing decisions have on the environment, they are increasingly looking for products and services from companies that prioritize sustainability. This trend is driven by a growing awareness of the long-term effects of climate change, as well as a desire to make a positive impact on the planet. Companies that are seen as environmentally responsible and socially conscious are able to differentiate themselves from their competitors and gain a competitive advantage.
One way companies can demonstrate their commitment to sustainability is by implementing environmentally friendly practices in their operations. This could include reducing waste and emissions, using renewable energy sources, and sourcing materials from sustainable suppliers. By taking these steps, companies can not only reduce their environmental footprint, but also improve their reputation among consumers and build trust in their brand.
At IPG, we're doing more than just putting zero-waste sustainability into our products. We're committed to putting it into our practices as well. We have established a Zero Waste Policy that commits us to have all manufacturing facilities Zero Waste Certified by 2030, and to divert at least 90 percent of the solid waste headed to landfills and incineration from our manufacturing facilities by 2030. This Zero Waste Policy demonstrates our commitment to not only offering sustainable packaging options, but also to being an environmentally responsible company in all aspects of our operations.
Innovative Solutions for a Sustainable Future: Addressing Difficult Packaging Challenges
As packaging manufacturers, we are constantly faced with difficult challenges that require innovative solutions. One of the biggest challenges we face is the need to balance the protection of the product with the environmental impact of the packaging. This includes finding ways to reduce the amount of material used in packaging, while still ensuring that the product remains safe during transport and storage. Another challenge is the need to make packaging that is easily recyclable and made out of safe raw materials. This requires a thorough understanding of the recycling process and the availability of materials in different regions. Additionally, we are also faced with the challenge of creating packaging that not only serves the functional purpose but also adds an element of pleasure for the consumer.
At IPG we are committed to staying on top of industry trends, continuously researching new materials, and pushing the boundaries of what is possible to provide our customers with the best possible solutions that not only meet the demands of a changing industry but also support a more sustainable future.