Management
---
Peter C. Durette
Chief Executive Officer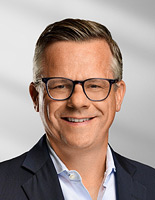 Peter C. Durette was named Chief Executive Officer and was appointed to the Board of Directors of the Corporation in November 2022. Prior to joining IPG, Mr. Durette spent 13 years at WestRock in a variety of senior roles including most recently as WestRock's President, Corrugated Packaging. He had previously served as Chief Strategy Officer of both MeadWestvaco Corporation and WestRock, a role he held since joining the company in 2009. During his time with WestRock and MeadWestvaco, Mr. Durette also held various other commercial and operating roles, including President of Enterprise Solutions, Executive Vice President of beverage packaging and Senior Vice President of home health and beauty packaging. He also led the post-merger integration between MeadWestvaco and RockTenn, when Westrock was formed. Prior to joining MeadWestvaco, he spent more than a decade with Marakon Associates, a boutique strategic advisory company.
Jeffrey Crystal,
CPA, CA
Chief Financial Officer
Jeffrey Crystal was appointed Chief Financial Officer of the Corporation in May 2014. Mr. Crystal is a Canadian Chartered Professional Accountant who, since 2002, has been in senior finance roles overseeing administrative functions both within and outside the traditional finance areas. His most significant positions prior to joining the Corporation included Chief Financial Officer of American Iron & Metal, Vice-President of Finance of Optimal Payments and Audit Manager at Raymond Chabot Grant Thornton LLP, Chartered Accountants. Mr. Crystal holds a Diploma of Accountancy and Bachelor of Commerce degree from Concordia University, Montreal, Quebec.
Jai Sundararaman
Chief Transformation Officer
Jai Sundararaman was appointed as Chief Transformation Officer in April 2023. In this role, he is responsible for driving innovation, research and development, digital transformation and strategic initiatives. Mr. Sundararaman has served as Vice President, Business Transformation Office since 2015 spearheading capital planning and execution, acquisition integration, and operational excellence.  Prior to joining IPG, Mr. Sundararaman served 15 years at Dell Inc. in a variety of leadership positions in Product Engineering, Lean Transformation/Manufacturing, and Acquisition Integration. He holds a Master of Manufacturing Systems Engineering degree from University of Texas, Austin and a Bachelor's in Mechanical Engineering from Bharathiar University, India. Mr. Sundararaman also serves on the Board of Governors of the  Manufacturing Leadership Council, part of the National Association of Manufacturers, USA.
Randi Booth
Senior Vice President
& General Counsel
Randi Booth was appointed Senior Vice President, General Counsel of the Corporation in December 2017. Prior to that, Randi served as Vice President and General Counsel for the Corporation from 2015. Randi is currently responsible for legal oversight of the Corporation and serves as the Corporation's Secretary to the Board of Directors. Prior to joining the Corporation, Ms. Booth was Vice President and Counsel at Deutsche Bank and an Associate Attorney in the New York offices of Arnold & Porter LLP and Pillsbury Winthrop Shaw Pittman LLP. Ms. Booth holds a Juris Doctorate degree, with honors, from Hofstra University.
Silvano Iaboni, P.Eng
Senior Vice President
of Engineered Coated Products
Silvano Iaboni was appointed Senior Vice President of Engineered Coated Products (ECP) in 2020. Prior to that, Silvano served as General Manager and Vice President of Engineered Coated Products from 2016. He is responsible for Intertape's Woven products business, sold worldwide and manufactured in Canada, India and USA. After completing five years with Shell Chemicals in Polymers R&D, Mr. Iaboni joined Intertape in 1993 in Quality and Process Engineering. He has held increasing roles of responsibility in operations management across all of the Company's manufacturing platforms including Tapes, Films and Woven products.
Mr. Iaboni holds a Bachelor of Applied Science degree from the University of Toronto, a Master of Business Degree from Saint Mary's University (Halifax, Nova Scotia) and is a Professional Engineer in the Province of Nova Scotia.
Emmanuel Boullay
Senior Vice President Operations
Emmanuel Boullay was appointed to Senior Vice President of Operations of the Corporation in May of 2023. Emmanuel is responsible for the tape, film and protective packaging manufacturing operations of the Corporation. Prior to that, Emmanuel joined the Corporation in 2018, as Vice President of Operations for the protective packaging division. Emmanuel Boullay has over 25 years of experience in manufacturing and plant management with packaging companies including Sonoco and Cascades. Emmanuel holds an Industrial Engineering degree from L'Ecole Polytechnique of the University of Montreal and a Master Certificate in Lean Six Sigma black belt from the University of Villanova.
Shawn Nelson
Senior Vice President Sales
Shawn Nelson was appointed Senior Vice-President Sales of the Corporation in 2010. Prior thereto, he served as Senior Vice-President Industrial Channel of the Corporation from 2006. Mr. Nelson began his career at the Corporation in 1995, holding several management positions within the sales organization. Before joining the Corporation, Mr. Nelson was Regional Sales Manager of Polychem. Mr. Nelson holds a Bachelor's degree in Marketing and Business Administration from The University of Akron, Akron, Ohio, and completed the Darden Executive Program at the University of Virginia as well as the Executive Program at The University of Chicago Booth School of Business.
Mary Beth Thompson
Senior Vice President Human Resources
Mary Beth Thompson was appointed Senior Vice President of Human Resources in November 2019. Prior to that, Mary Beth served as Vice President of Human Resources from 2017. In her role, Mary Beth oversees the global human resources and payroll functions. Prior to joining IPG, Ms. Thompson spent her career in various HR and Organizational Development roles in the industry, most recently with the Sonoco Products Company where Ms. Thompson was a global HR director. Ms. Thompson holds a Bachelor's and a Master's degree in Business with a concentration in HR and Industrial Relations from Virginia Commonwealth University.
Joseph Tocci
Senior Vice President
Global Sourcing and Supply Chain
Joseph Tocci was appointed Senior Vice-President of the Corporation in 2008. He is currently responsible for Supply Chain, Global Sourcing and the Consumer Business Channel. He joined the Corporation in 2005 as Vice-President of Supply Chain. Prior to joining the Corporation, Mr. Tocci was Vice-President of Distribution at Polo Ralph Lauren, Senior Director of Supply Chain with The Home Depot, Vice President of Supply Chain at Atari and Director of Supply Chain for Nabisco. Mr. Tocci holds a Bachelor of Science degree in Business Administration from Shippensburg University, Shippensburg, Pennsylvania.