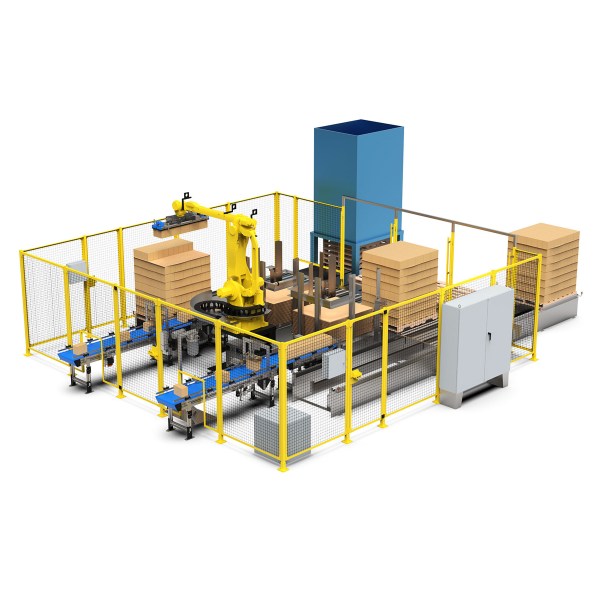 Tetristack
Compact Modular Robotic Palletizer
Tetristack Palletizers are designed as self-contained units. Its compactness and lightness allow you to transport, and integrate it into a new or existing packing line quickly, and effortlessly.
Sell Sheet
TETRISTACK OPTIONS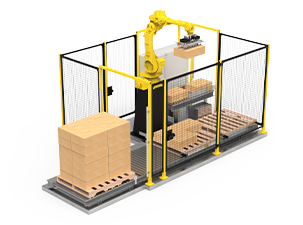 TETRISTACK 1
More floor space
This palletizing system is light and compact, which remains ideal for small businesses. Featuring one outfeed, this machine is suitable for companies that need to be economical about their floor space and for companies with smaller manufacturing volumes.
---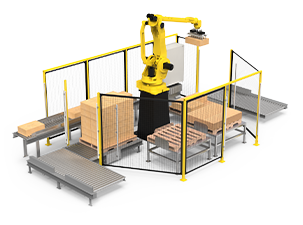 TETRISTACK 2
Two outfeeds to help your business grow
Tetristack 2 is equipped with two outfeeds. We developed this solution for businesses that still need to save their space while expanding their manufacturing volume.
---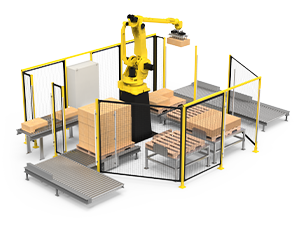 TETRISTACK 3
Palletizer designed for medium businesses
Tetristack 3 features a slip sheet dispenser, pallet dispenser, stretch wrapper, buffer conveyors, and three outfeeds – ideal for medium manufacturing volume.
---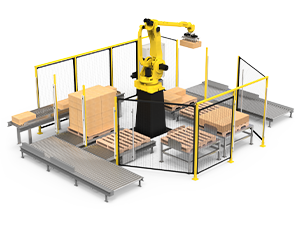 TETRISTACK 4
Palletizing system for larger businesses
Each Tetristack system can be equipped with a clamp, pail, case/bag, fork, and vacuum tools. This palletizing system has four outfeeds, and since it is great for larger manufacturing volumes – it requires a bit more floor space.
---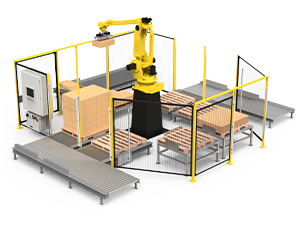 TETRISTACK 5
Large demand – more outfeeds
Every Tetristack system, regardless of the number of outfeeds, has the following product in-feed options: case erection, case loading, case sealing, case closing, labeling, vision inspection, check weighing, and rejection. Tetristack 5 features five outfeeds, which is best for companies with a greater packaging demand and more floor space.
---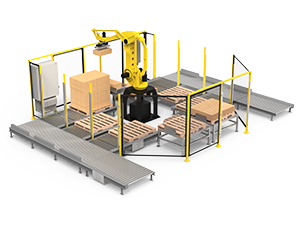 TETRISTACK 6
Great minds think big
Slip/tier-sheet rack, zero pressure product in-feed conveyor, and the full line integration service are signature features of all Tetristack systems. Tetristack 6 is our most extensive palletizing system, with six outfeeds – to satisfy even the highest business aspiration.
| | | | |
| --- | --- | --- | --- |
|   GENERAL OPTIONS | IN-FEED OPTIONS | END EFFECTOR OPTIONS | PALLET OPTIONS |
|   Slip/Tier-Sheet Rack | Case Erection | Pail tool | ‍Buffer Conveyors |
|   Zero Pressure Product | Case Loading | Clamp tool | Stretch Wrapper |
|   In-feed Conveyor | Case Sealing | Fork tool | Pallet Dispenser |
|   Full Line Integration | Case Closing | Case/bag tool | Slip Sheet Dispenser |
|   Service | Labeling | Vacuum tool | ‍ |
| ‍ | Check Weighing | ‍ | ‍ |