When it comes to tackling construction projects, repairs, or maintenance tasks, having the right tools and materials is essential. Among the must-haves in any toolbox is a reliable and versatile duct tape that can handle a wide range of applications. In this comprehensive guide, we will explore the key features to consider when choosing the right duct tape for your needs. So let's dive in and discover the ideal tape that will help you get the job done right!
Key Features to Consider: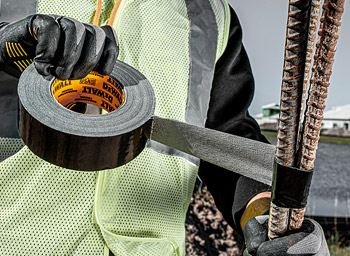 Strength and Durability: It's crucial to opt for a high-strength and heavy-duty adhesive tape that can withstand demanding environments and challenging tasks. Look for a tape that offers superior quality and ensures long-lasting repairs.
Versatility: When it comes to DIY projects, maintenance tasks, construction projects, or commercial needs, a truly remarkable duct tape is one that excels in its adaptability to a wide range of applications. Whether you're tackling home improvements, conducting repairs, or seeking a reliable tape for various purposes, it's essential to choose a versatile tape that can confidently handle diverse scenarios. With such a tape at your disposal, you can confidently embark on your DIY adventures or your biggest construction project, knowing that you have a reliable and adaptable tool in hand.
Weather Resistance: Construction sites and outdoor projects often face exposure to various weather conditions. To ensure the tape maintains its adhesive properties in such situations, opt for a weather-resistant duct tape. This will prevent it from peeling or losing its grip when subjected to moisture or extreme temperatures.
Professional-Grade and Contractor-Approved: When it comes to adhesive tapes, reputation matters. Trustworthy duct tape brands, such as DEWALT® Duct Tape, are known for their superior quality and have earned the trust of contractors and professionals. Choosing a professional-grade tape ensures that you're investing in a reliable product that meets the demands of your construction needs.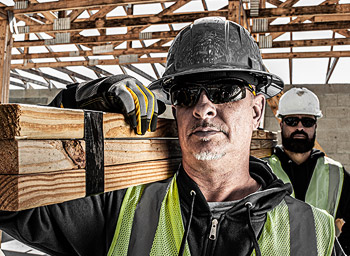 Why DEWALT Duct Tape Stands Out: DEWALT Duct Tape, a leader in the industry, offers high-quality adhesive tape that excel in strength, versality, weather resistance and approval ratings. Their heavy-duty tape for projects provides resilient and flexible adhesion, making it suitable for a variety of construction applications. With DEWALT Duct Tape, you can trust that their industrial-grade adhesive tape is designed to withstand demanding environments and ensure long-lasting repairs. DEWALT provides ultimate performance on wood, stone, brick, film, stucco and metals allowing it to be used in many applications. In addition to this it is excellent for construction, automotive, marine and industrial applications – as well as those challenging jobs around the house.
Choosing the right duct tape is crucial to the success of your construction, maintenance, and repair projects. By considering factors such as strength, durability, versatility, and weather resistance, you can ensure that you're investing in a reliable adhesive solution. Among the various options available, DEWALT Duct Tape shines as a trustworthy brand that offers superior quality and performance contact us today for availability options. Whether you're a contractor, professional, or DIY enthusiast, DEWALT Duct Tape is the perfect choice to tackle any task with confidence. Equip yourself with the best and enjoy the convenience, reliability, and strength that DEWALT Duct Tape brings to your projects.