Did you know that duct tape was invented during World War II?
An Illinois native named Vesta Stoudt invented the tape to help make boxes of ammunition easier for American troops to open. Now nearly a century later, DEWALT duct tape is one of the countless brands you can find on a counter.
Why use duct tape, and what makes DEWALT's the best tape? If you're interested in this common construction tool, we're happy to help. Read on to learn more about this waterproof cloth tape.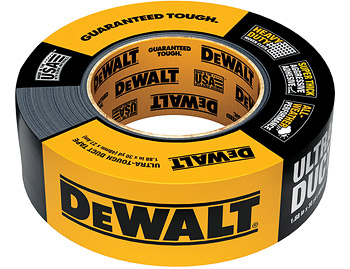 Benefits of Duct Tape
It would be difficult to find a construction site that didn't have rolls of duct tape ready to be used.
So, what makes duct tape such a popular material?
Duct tape is a waterproof cloth tape, primarily used to help adhere to air and water ducts. However, these adhesive tapes are helpful for all sorts of construction needs. Here are five of the most significant benefits of duct tape.
Easy-to-Use
One of the biggest benefits of using duct tape is its easy-to-use. Many construction tools and materials require specific training that can make them overwhelming.
Construction site teams could be ground to a halt while workers undergo training for products and equipment. Such a situation will rarely arise with duct tape.
DEWALT duct tape is easier to cut than most adhesive tapes. You won't have to worry about the tape falling and sticking to itself while you try to tear it off. A quick, clean tear will give you the exact amount of tape you need.
Low-Cost Material
Duct tape is exceptionally low-cost. The low cost makes it an excellent solution for construction teams and DIY enthusiasts.
Keeping duct tape in your toolbox, ready for any necessary construction needs, has become a standard. Few tapes are more robust and more effective while remaining cost effective, make duct tape an easy choice.
Highly Effective
Often, something low-cost and easy-to-use isn't an effective material or tool. Duct tape can be one of the most valuable and versatile items in your toolbox.
Part of its effectiveness is its ease of use. You won't need to worry about operational mistakes. You can tear multiple pieces of tape off, should you place the tape inaccurately or need more of it.
DEWALT duct tape is high quality tape. Some "discount" tapes might cost a little less, but in the end, you get what you pay for. The quality is not the same as DEWALT duct tape.
Waterproofing
Waterproof cloth tape was the genesis of duct tape. DEWALT's design is based on the original waterproof design but has been substantially improved.
DEWALT duct tape resists leaks, tears, and other issues that can damage the adhesive. If water gets under the tape, it won't ruin the bond as it might on other tapes.
You can use duct tape to make most containers waterproof and leakproof. Think of the various uses for your duct tape in an outdoor setting. DEWALT's duct tape is weatherproof against rain, water, snow, and sleet.
Variety
Many of us picture the classic powdered aluminum silver color duct tape roll when we think of duct tape. Did you know that there are many other options available?
Duct tape is an exceptionally versatile tape due to the broad swath of usable tapes. Some tapes, like general, industrial, and professional grades, are best for everyday use. Less common professional tapes include gaffer, stucco, and "true" duct tape.
Finally, coated cloth tape is often called "mission tape." The tape is an instrumental specialist tape famous for its use in the Apollo 13 mission. Since that launch, mission tape has gone with every manned U.S. space launch.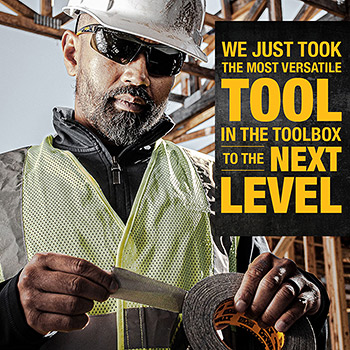 Why Use DEWALT Duct Tape?
There are countless benefits to using such a reliable product. Here are some of the most notable benefits.
Reliable Brand
First and foremost, DEWALT is a reliable and trustworthy brand. You can find DEWALT products in most big box retail stores and tool or hardware stores.
DEWALT products are famous for their ruggedness and reliability. Duct tape shouldn't be purchased based on price alone—focus on finding the products that work. It's better to use one good roll of duct tape than three lesser quality rolls.
Long-Lasting
Some adhesive tapes don't live up to the desired performance. Their waterproofing may fail at the first sign of rain. If that happens, the tape is virtually ineffective if you're fixing something outdoors, like an air conditioning duct or gutter.
DEWALT duct tape is long-lasting, easy-to-use and will remain intact as long as needed.
Easy to Find
Speaking of easy, have you ever shopped between a few hardware stores to find your desired brand? DEWALT is a well-known and an easily accessible brand.
You can find DEWALT products where most tools are sold. You won't need to worry about a cross-community trip to pick up construction materials or tools for your project.
Making the Most of Your DEWALT Duct Tape
DEWALT duct tape is among the most reputable and reliable options.
Few adhesive tapes can flaunt their performance and trustworthy nature. Whether you need the classic powdered aluminum silver roll or a specialty professional type, DEWALT's duct tape will suit your needs.
If you're looking for DEWALT duct tape, browse our selection. You can also contact us for more information.