History of American Tape Company
In 1953, American Tape company was founded by Chris Kurzweil, Sr. located in Port Huron, MI. He had the vision of serving the pressure-sensitive tape market. The young company initially provided masking tapes to the automotive industry in the Midwest, much of it being in the Detroit area which was about an hour from the plant. Business grew in the first decade, so in 1963 the company moved south to its current location in Marysville, MI.
In 1955, the company was purchased by Armour & Company which provided substantial investments in equipment and capital, plus expanded markets to sell products.
In 1969, Greyhound acquired Armour, reorganized the tape division, and sold it to Akzona.
In 1971, Akzona decided the company would be named Armak Company – Tape Division. There were further financial and machinery investments and sales climbed. By this time, the company was acknowledged as one of the leading pressure-sensitive tape producers in the United States.
In 1983, a group of private investors purchased the company and restored the American Tape name.
In 1990, Seoul Trading Company (STC) acquired the company, but the American Tape name was retained.
In 1997, American Tape was purchased by Intertape Polymer Group (IPG) with the American Tape brand remaining for the automotive masking tape line.
American Tape Today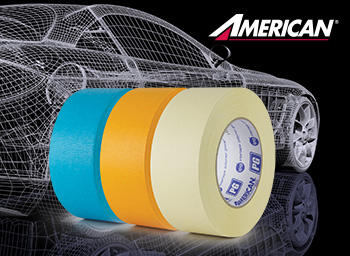 For 70 years, the American® brand name has been recognized by customers for being a driving force for high quality tape products that address the unique needs of the automotive aftermarket. In addition to our American brand masking tapes, IPG has the distinct advantage of leveraging the extensive knowledge, technical expertise and full bundle of tape and packaging products for our customers. The result is a comprehensive solution for the applications found in the automotive aftermarket, marine, transportation, aerospace and building and construction industries.
IPG's vision is to be recognized as a leader in performance masking, surface protection and complementary products so that we uphold our customer commitment to deliver solutions that increase productivity, maintain product integrity, improve your image, and contain costs.
American brand products have long been trusted by professionals for their unsurpassed quality and performance. But we do not rely only on our history or reputation. Our mission is to build upon this proven performance and exceed the expectations of our customers.